Steamboat Delivery is a new online delivery platform offering steamboat items. They aim to create a warm atmosphere and also make it available to you anywhere. Their menu provides a wide selection of ingredients at affordable prices and offers free delivery for orders above $100.
They have bundle options that serve a party of 2-10 pax with fixed ingredients; if you do not like what they offer you can also go for the a la carte items instead. They are also able to offer portable gas stove and pots which may be very helpful for some. Their soups bases are also said to be simmered on low fire for at least 8 hours daily to bring out the flavours of each soup base as well as retaining the natural nutrients. They also promise to replace your ingredients for free if they are not fresh! For more information, visit their official website.
We ordered the Steamboat King Bundle D which is priced at $150 and serves 8-10 pax. The package includes fixed ingredients such as mushrooms, vegetables, meat and sauces in a mixed variety. You get to pick 2 of your preferred soup bases from their selection of classics such as Sichuan Mala and Tomato.
Our Verdict:
The delivery was done on time and the food came in secured plastic bags. Each ingredient was separately packed and they generally came in big portions so it was more than enough for everyone. However, we felt that it would have been better if they used a styrofoam box or cooler bag to store the meat and seafood to keep them fresh.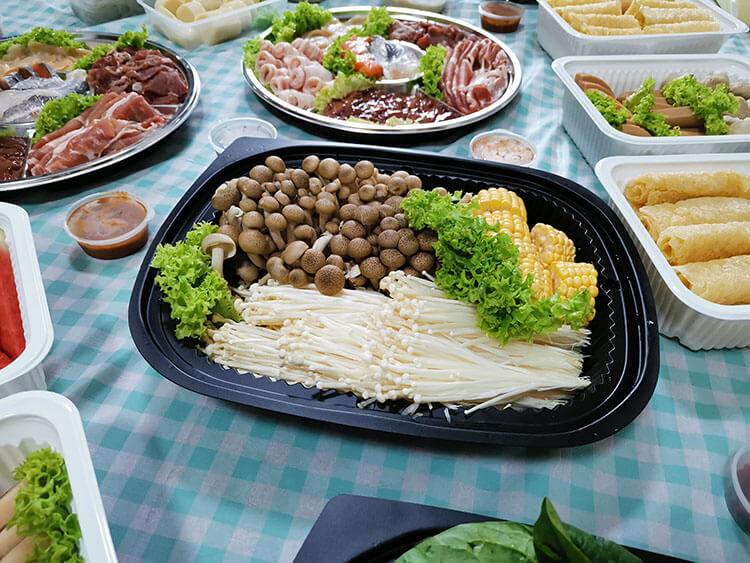 The collagen soup base was flavourful especially after cooking some ingredients in it, while the tomato soup was much blander compared to those usually served at hotpot restaurants.
While there are definitely better ones out there, if you are looking for a fuss-free steamboat. At just about $15 per pax, the quantity of the food and free delivery makes it worth the price. This steamboat delivery review is in collaboration with Best in Singapore.
Do also follow:
Best in Singapore Facebook page: https://www.facebook.com/bestinsingaporeofficial
Steamboat King SG FB Page: https://www.facebook.com/steamboatkingsg
Steamboat King SG IG: https://www.instagram.com/steamboatkingsg/